What to sell online: 20 product ideas that drive sales online?
Selling products online is one of the easiest ways to make a fortune. But reliable reports show that some people make more while others almost make nothing. What is the difference between the two cases? Many reasons can result in a few sales or no sales.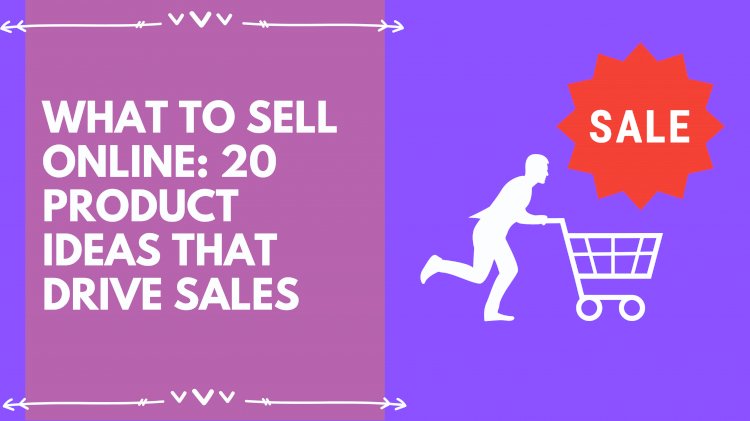 However, in this sector, we will be tackling the products. Are you still struggling with figuring out what to sell online? If that's the case, worry no more since this piece will suggest some of the top product ideas that drive online. Read on!
Top 20 Best Products ideas to sell online
Many startups are often in a dilemma of what to sell online. Why is that? Naturally, there are many products that you can sell physically or online. But, the main question persists of the amount o9f people who need these kinds of stuff and if you can attract customers to your online store.
If you are in a dilemma of what to sell, worry no more since this piece got you covered. We will highlight some of the product ideas that will never go wrong. These products are naturally marketable and have many fans; hence you can quickly drive sales.
1. Phone accessories
It is no secret that people, especially the younger generation, can never survive without their phones and accessories. Think about it, how often do you replace your charger or earphones? Now think about other people like you who often need to replace these accessories. From a theoretical point of view, you can tell that the number is high hence their popularity. One of the top product ideas you can sell online is phone accessories since they are affordable, readily available, and have many fans.
2. Watches
Many people may argue that the current smartphones can replace a watch, but we can all agree that watches will always be unique. This product brings out a sense of elegance and class; hence its market is enormous. With that said, watches are a great choice to sell online at all times.
3. Pet Products
The pet industry is generally immense evident in the many available products in the sector. One of the best easiest things you can sell in the industry includes dog bowls. If you visit most e-commerce websites, you will notice the many reviews and the sale rate surrounding this sector, making it a great industry to explore.
4. Natural Hair Products
Women feel best when they feel like a queen, and the way they look naturally affects their level of confidence. Other than clothing, another sector women worry about is their hair. From various social media platforms, you can get that many people are moving to the natural lifestyle. You can use this trend to sell natural hair products that fit various women depending on their hair type. With natural oil, conditioners, and shampoos, you will never go wrong.
5. Baby Products
Baby Products will always be in demand; after all, every day, different people become parents. This sector is broad; you must settle for a specific category, for instance, clothes or toys. Also, you can promote your products by using one of the mommy bloggers available at a fair price.
6. Makeup Products
Everyone loves looking good, and as much as they are natural beauties, a final touch with a brush often spices up the whole look making the beauty industry a top-notch. If you are a startup in online selling, you can always start here since different people prefer various beauty products. You can choose to settle for cruelty-free makeup and choose vegan customers or natural products for people with sensitive skin. Note that it's essential to be creative in your products' description to attract more customers.
7. Nail Polish
Over the years, the beauty sector has evolved, but some things have been around for ages, like Nail Polish. The industry keeps growing, but its dominancy since its inception persists, explaining why it is an excellent place to get started as an online seller. Not to mention, statics suggest that its sales will keep rising with time.
8. face-care products
Unlike before, this sector is currently interestingly a domain for both men and women. Products like peel-off masks are becoming a routine after work as a way to destress. You can choose to dominate in this sector since it has a large market, affordable, and most importantly, you can grab a considerable share of loyal customers with the right products.
9. Wireless Phone chargers
This sector is the next big thing in the smartphone world. Why is that? Many people are tired of carrying a wired charger all the time. Experts claim that this sector will dominate the phone accessories industry; hence you can choose these products online.
10. Face Shield
If you are observant in many recent social media accounts, you realize that many people tend to wear colorful face masks. The positive trend suggests that people love these products hence their demand. Start selling these face shields together to drive your sale.
11. Phone Lenses
Phone Lenses are a great market to explore, especially with the many people's obsession with capturing the best photos for the Instagram accounts. There are many choices available hence you can offer your customers many options. This sector has remained among the best-selling products in the last couple of years, therefore, a great place to start.
12. Child Wrist Leash
How often do you hear cases of people who love children in malls or cities? It is probably as frequent as no one would like to hear. And the Child Wrist leash is one of the top products that can help reduce these incidents. This sector is a great area to venture into, especially if you reach the right target. In this sector, you must ensure that you get to the right target.
13. Car Phone Holders
Smartphones have made our lives easier, especially when it comes to finding various locations when driving. However, there are still many people struggling with ways of handling their phones while driving. Car phone holders are the solution to this problem; hence their popularity keeps growing with time. As an online seller, you can research the best car phone holders and make them available in your store. If you venture into this sector, the probability of getting things wrong is low.
14. Security Cameras
One thing is certain; many people are obsessed with the security in their homes, companies, institutions, and all the places they go. Technology allows people to monitor their home security on their smartphones. If you have run out of what to sell online, settle for security cameras since the products are in high demand and are readily available in many companies.
15. Online food delivery
If there is an area that it's impossible to go wrong, then it is the food sector. Reliable sources claim that this sector growth is high and it will keep growing with time. Not to mention, you can blend this sector with subscription boxes to cover two areas.
16. Subscription boxes
There is nothing more comforting than taking care of monthly bills. And selling subscriptions means recurring billing until the customer decides to cancel. Besides, you can choose a subscription box depending on your area of interest.
17. LED lighting
The LED lighting sector is a trending industry, and it's no secret that many people are often making purchases in this sector. People fancy elegance since there is no better feeling than being in an environment that looks good, and that is What LED lighting helps people achieve. If you are starting an online store or the products you are selling are not making much, you can always explore this sector. Statics show that there is no much to worry about if you decide to sell LED lighting.
18. Selling shapewear
As the name suggests, shapewear is tight-fitting underwear that controls the shape of your body. The sector may not be as dominating as women's underwear. However, this sector is expected to grow with time; hence it is a great place to start as a beginner.
19. Tea
There is so much that a cup of tea can achieve, meaning that many people love it hence a high demand. You can choose to explore the tea sector by evaluating different brands. Make your online store a place where people can reference the brands of tea.
20. Bluetooth Speakers
The popularity of Bluetooth speakers is rising. Not to mention, these products have remained on the top-selling list in the last couple of years, suggesting that their demand is high. As an online seller, you can buy various Bluetooth speakers from manufacturers and sell these items in your online store. Note that it is crucial to purchase high-quality speakers to attract many customers.
Conclusion
Opening an online store is one step to making a fortune online but choosing the right products is a step closer to fulfilling this dream. The list above highlights some of the best product ideas you can settle for when running your store. With the options above, it is almost impossible to go wrong. However, make it a habit to monitor the current market trends to get new ideas.