How to start a Shopify store: the ultimate guide for beginners?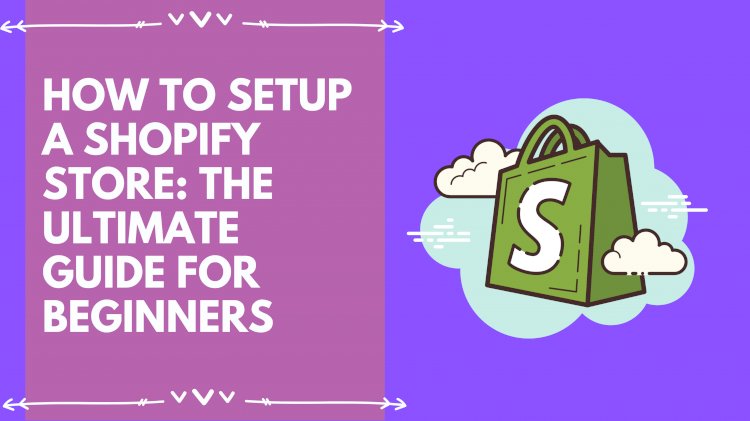 Over the last few decades, selling products have become more convenient through online stores. The internet has opened many doors in the business sector, including online sales. And many who have an e-commerce website would not dream of running their business without it because of the many benefits of online sales.
Contents
Due to their rapid popularity growth over the years, there are many platforms available that allow business people to set up online stores, and one of them is Shopify. Are you thinking of opening an e-commerce store? If yes, Shopify is a great option, and this piece offers you the necessary guidelines that beginners must follow to start a Shopify store. Check it out!
What is Shopify?
Shopify is an e-commerce platform running under a subscription and allows individuals or companies to quickly build an online store for selling various products. Store owners using Shopify can opt to sell their products via Shopify POS in their physical stores or use an online store to sell them. Additionally, they have a stable data management system that helps store owners manage their accounts.
This platform goes beyond offering business people the tools to sell their products and provides a stable method to launch your business and sell your products at the comfort of your home with an online presence. Not to mention, building an online store is simple.
How do Shopify works?
Starting your dream business is one thing and ensuring that things are running in the right direction is the real deal. Every business person who has experienced starting days can confirm that things are never easy when a business begins. Before eCommerce platforms were introduced, you needed to list your products, advertise your products, manage the finances and operations. In all these cases, you required various tools for effective results. However, Shopify makes the experience of startup a business bigger and better. Why is that? It offers all these tools in a package under one subscription explaining why the platform is popular.
Guide for beginners on starting a Shopify store
You have probably heard about the difference that the Shopify platform makes to businesses, and you are thinking of giving it a trial but, you don't want to join blindly. If that's the case, this piece will provide you with all the details you need to know when building an online store under Shopify. Note that it doesn't matter whether your business is new or has been running for years.
1. Plan what you want to design
A business plan is a primary thing that every business person must keep in mind since it sets the trend that you will follow later. Ask yourself some critical questions like the type of business, whether it is a partnership or at an individual level, is it a full-time job or part-time, what you want to achieve with the online store. Basically, in this section, you make a business plan, targets, and policies. Note that considering all the crucial details is a must. Besides, you can think of a name to give your business.
2. Create an account under Shopify
Visit the official Shopify website and sign up for a 2-weeks free trial plan. Input your email, official names and give your store a name. You can alter your store's name later in case of a change of mind or something. Shopify will prompt you to create your store select where under this option, you will give a few details about yourself. The information you will provide determines the emails Shopify will send to advise you on your business venture. Then you have to enter your name and email before clicking on Enter my store, and the Shopify account is ready.
3. Design your online store
Visit Online Store under themes to explore various designs that you would like for your online store. Shopify offers many themes to choose from to create your store. This eCommerce platform is the home for everyone regardless of their budget since they offer paid and free themes.
After selecting your preferred theme, then you can customize it to match up to your dream site. Various themes come with different settings.
4. Customize your online store
Generally, Shopify automated settings look great, but you can always spice up your store by changing the settings. Visit the Settings option on your left. Some of the common things you can change include the email, store name, and the addressing.
In this sector, you will also have access to the payment settings. Click on the "Complete Account Setup" option to set up your store in such a way that customers can pay for their goods via a credit card. Shopify automatically set up PayPal as a payment provider option. Besides. You can alter many settings, including legal, shipping, and checkout options. In the settings, there is an exception, Preferences settings which aren't under the Settings.
Register for your Shopify domain by clicking on the Domain option, and you will have many extension options. But the extension matches your budget. Make your domain your default URL
5. Create the necessary pages
After you set up all these settings, you need to work on other essential pages
Contact us:

To create a contact us page, you need to select Add Page, then a drop=down menu will appear under the Template option. Note that you must choose the "page. Contact" option. Save changes in the page such as a phone number and other essential details such as the time customers need to wait before hearing any feedback.

About us:

This page gives clients a way to build trust with their customers. Try to be unique as possible to make your store stand out among others

Shipping page:

On this page, you can give details about your shipping, including the areas you can deliver your orders to and the amount a customer needs to wait for before getting a product. Besides, you will create shipping policies giving details on the shipment time, shipping rates, and the order tracking option
Click on the navigation option to edit your menu nu clicking on the Main menu, then Add Menu, Pages, and Contact us page. Do this to all pages to add them to the menu list.
6. Add your products to your online store
In this section, select the Products option, then Add Products. Ensure that you add the title and description of each product. It is highly recommended to highlight the benefits of each product, features, and the reason why customers should choose your product. Images also come in handy when it comes to advertising your products.
In the products sector, there is the organization option where you give details on the type of product, vendors who help create the inventory, and the collection option to add a product to a collection. Tags always help when it comes to organizing items into the collection set. The pricing feature is simple.
7. Create your collections
As the name suggests, a collection is a group that comprises similar items depending on the vendors, types, tags, and many more features. Creating a collection is straightforward since you only need to select Collections then choose Create Collection.
Similarly to the product pages, you need to include details on the title and description of the products. A collection can consist of two or more products, and it's advisable to get a description once to avoid creating a distraction. Adding products to the collection can be manual or automatic. In the first option, you add every product at a time. In the latter option, a product will add itself to the collection if it matches the description.
8. Include the discount options
This section is an option since you can opt to give discounts depending on your budget. Click on the Discounts then codes to generate a code. Set the discount rating depending on your preference.
9. Monitor your orders page
In this section, you can familiarize yourself with the orders requested and the customers' information. Shopify limits what you can access on this page until you select your subscription plan.
10. Monitor the Analytics Page
As a startup, there is nothing much you can do on this page. However, you can review the traffic your online store is receiving and which pages are popular, and most importantly, the products that are selling well than others.
11. Choose a subscription plan
Kicking off with Shopify requires you to select your paid plan as per your needs and budget. You can choose the Basic Shopify plan, Shopify, and Advanced Shopify plan. The Basic option goes for $29 monthly, Shopify for $79 monthly, and the advanced program cost $299.
12. Launch your online store
Finally, publish your store before launching it. If you follow all the above steps, it's a win since you will successfully set up a Shopify store.
Conclusion
Shopify's eCommerce platform gives the best services when setting up an online store explaining why it is popular among business people. The setup process is straightforward, making it convenient for beginners and experts. Follow the above guide to achieve a well-published Shopify store with all the necessary data.