How to start a Successful E-commerce Business from Scratch in 2021? : A Step by Step Guide for your Online Business
Here is a guide to start from scratch your E-commerce Business in 2021 in a few simple steps to build your profitable niche with smart planning and model.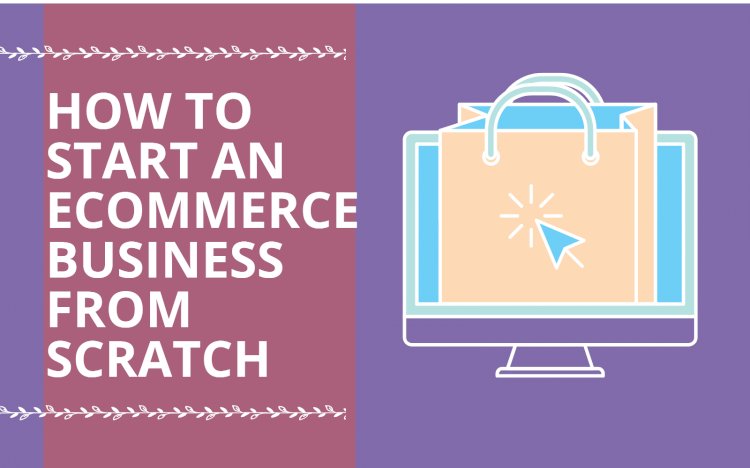 The luxury of online shopping has reached a new level and when you have already decided that this is the Business that you really want to be in, then what's stopping you? It might seem like a really big mountain at first but would once you climb it, you'd realize how easily you did that.
Now here we are going to have a proper conversation/discussion over how you are going to build your own e-commerce site without having to rely on other platforms to sell your products. (maybe a little costly but best for the long term)
The whole nitty-gritty about building up your own shopping store on the internet, with your own branded products and your own loyal customers!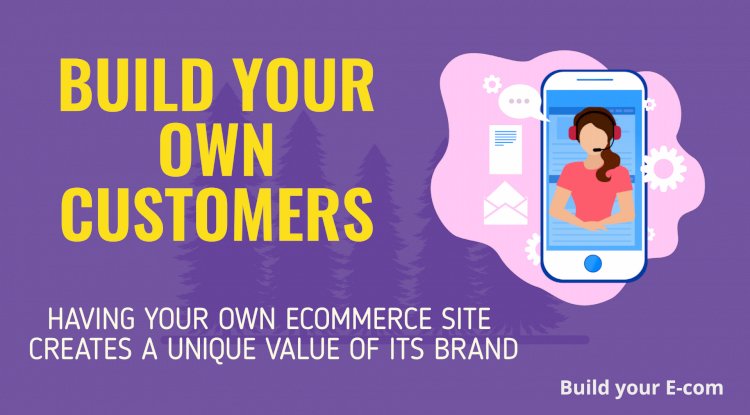 It's been three years since my partner and I established our e-commerce site Indigalleria.com and to be honest when it all started we had no idea how it will work and how everything will fall into place. Right from website building to assembling our products than to sales and deliveries, it has been a long journey and here I am going to discuss everything about how we started our e-commerce site from scratch.
But just like any other business, e-commerce sites also take your whole energy grinding into every minutest aspect of dealing with the website designers and developers, the marketing, the products, and their delivery, the payment options, and the after-sales service.
Okay, all the bricks that I laid there, or maybe hurled at you just like that, please don't be scared, these things sound tough but are pretty much easier to do when dealt with one at a time. Breaking down a whole wall into smaller bricks is what I introduced you to and to further make your task easier each step is elaborated for you to gain the confidence to build up your own successful online business.
So I am assuming that right from niche selection, to brand name and website development and designing everything needs to be done and managed by you entirely, so here every single step has been detailed so that you are confident enough to start an e-commerce site.
Keep on reading if the following checklist needs your attention-
Contents
Step1: Identify the Business Model and research the E-commerce Niche you are interested in
Before entering into the real world of e-commerce business, what really important is to know whether your business model is going to suit the products that you are going to deal with. However I know for a fact that the moment you decide on an e-commerce business, the products are quite well aligned to your thoughts.
But wait, what if you haven't chosen your niche yet, should you already be dejected about that? Absolutely not!
This is what the first step is about, taking a step and getting started!
Before entering in into the decision regarding your E-commerce business Niche, let's discuss what business model and what type of business model might suit you?
So a business model is nothing but you describing and chalking out a plan of how you are going to create this whole organization, how you want your deliverables, and how it captures the economic and social value.
Do you want your business to be involved in just a one-time purchase or you can offer the products on a subscription basis to your customers?
Do you prefer to stock up your inventory of tangible goods or you wish to sell services that are intangible?
The research for a proper niche that you are going to choose has to have your interest so that even when the business(God-forbid) isn't going that well you stay motivated and positive enough to stick through every thick and thin of it.
Avoid the budding of those ideas which-
Have high costs and low-profit margins

Does not fall in the range of your interest/passion

Have higher chances of being caught up in some legal matters/ have a higher scope of legalities and messy legal claims
While brainstorming for the products and niche that you want to choose keep in mind the following things:
The product/service that you wish to sell should also be gravitating- not just for now but it should also have demand even in the coming decades. This is because here you are not dealing with a physical store and targeting the audience in your periphery but an e-commerce business where people really want to buy something that is trending and has a long future for its stability.
You can start this by looking out at the existing markets of e-commerce and how successful they are in their venture. This would motivate you to narrow down on the ideas that are relentlessly popping up in your head.
Keep the products light-weighted- I don't want to interfere with the business idea that you already possess rather if you have the capital to carry out the expenses of delivering the heavy goods then make sure you confidently abide by that plan.
But if you don't have any idea about what your niche should be and are also low with capital, then you should start narrowing down on those products which are light weighted
Consider the profit margin and overall income- there are millions of e-commerce websites that are selling products or services and you who wish to sell it on your own website, make sure to earn a good amount of profit on it per sale. There are so many Business ideas that are absolutely intangible and manage to make millions of dollars out there. So if you haven't chosen a niche yet, do consider thinking about it too.
Always consider the USP of your product- E-commerce businesses have been exploding and to make your own stand in the market you have to make sure to have something unique in your own business idea.
For example, when we decided to sell paintings, we thought that we should only sell unique handmade paintings that are made just once and are not the copied artworks.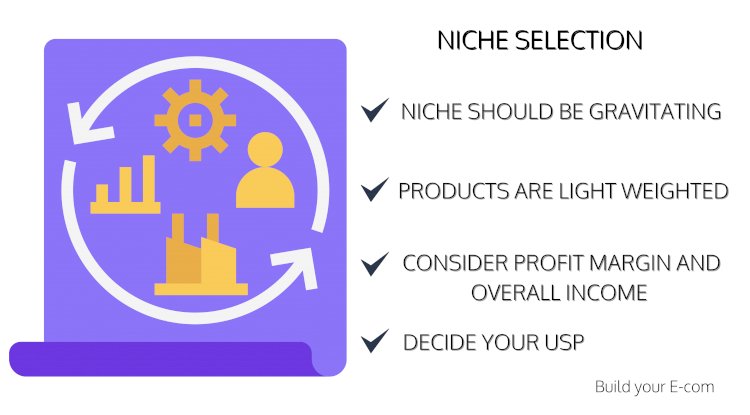 So be on your toes when you are deciding on the storefront and what niche you wish to choose.
Let's proceed with preparing a proper blueprint of it and creating a solid foundation so that the next steps that you are going to take are strong enough.
Must read: What to Sell Online? 20+ Product ideas that Drive Sales Online!
Step2: Validate the Target market for the ideas that you have for your chosen Products
The niche that we had chosen was a very narrow one, we had a very specific set of audience which purchases original handmade paintings. So we had to analyze the super extravagant customers who wish to purchase such things and analyze the frequency of such kinds of purchases. The artists who make these paintings and how to list them on our site.
The audience that you are targeting should be brought into notice, their likes, and dislikes, and proper consumer behaviour research of your target audience.
Now to finally validate and move towards the next steps, search the sales volume or the interest of the public in your products. The biggest source of knowledge for this information is going to the amazon site where you can find so many different types of products and the reactions and engagements to each type of product.
If you feel inclined to some of the products found on amazon, suppose you have listed down four items which are furniture, electronic goods, books, travel equipment then you may also have to narrow them down to just one product out of which you going to build your own e-commerce business.
So amazon can help you find what the market prices are, delivery rates, audiences' engagements with the products, and product reviews this will further help you narrow down on the four of your chosen products.
After this step, you may further want to narrow down your choices, like suppose after striking off the furniture and books from the list you are left with electronic goods and travel equipment then you can search for its keyword volume on the Google Adword, for just finalizing your one product.
Start this by analyzing the target audience of the existing players in the industry and gain more confidence about the niche that you have chosen.
If you don't find the initial product/niche convincing feel free and self-assured enough to change it there and then itself, as you cannot afford to take the risk of the next mentioned steps without being absolutely sure of the chosen niche.
Also, you should not restrict yourself from sharing and discussing your ideas with people around you who have knowledge about this and can not only motivate you but at the same time also help you with better ideas for your selected product.
And at the end finally, you are left with the final product for your own e-commerce business!
Step 3: Choose a brand name and a logo for your brand
So you have already chosen your business idea now, congratulations on that!
The biggest mystery as to where you want to reach is already solved and now you want to choose the brand name and a logo complimenting your brand name.
The brand name of your e-commerce business
Choosing a name that should not only be unique but also should convey the business idea of your company. You must try reaching out to the local secretary of your state's website or the state business filing agency which has all the listings of online entities. One can try searching if the selected business name is already chosen or not.
Also, it's better to not keep a similar name with another company as that would snatch away the uniqueness in your own brand name.
After this, you want to also make sure that a domain name is available with the same name as your brand. Then try researching for the domain names as well and if the company's name is not listed but there is a domain bought that goes by the same name, then you would want to change it of course as you are launching an e-commerce store.
Don't fret over wasting so much time on it, it rather is an initial investment which if not done properly has the capability to land you up in a terrible situation later on.
The brand logo of your company
Your e-commerce store's brand logo should have the aura of giving the audience the feel of what you are dealing with.
There's nothing wrong with having a slightly loud logo only if it matches the persona of your brand and also if you want to go with a quite calm and soft look of the logo you may feel free to do so.
But sometimes choosing a brand logo becomes a great problem and not everyone is so good at it.
Also while you are already so involved with all the other planning work it might even kill your precious time then. You can try out Fiverr for this as they have a much-sorted website that is going to meet all your needs for your e-commerce website such as logo designing and other basic needs. There are hundreds of professionals listed down there who can design your logo with all price ranges.
Step 4: With the Business Plan to proceed to the Legalities of the business
The business that you might have chosen, for example as we chose an online gallery which only deals in selling original handmade paintings, so we were bounded by a lot of legalities which were necessary to be taken care of. One of which was that we need to provide a certificate of originality to the buyer that the painting we sold to them is 100% original.
It would be greatly advisable to reach out to a legal advisor who can guide you with such things.
Don't be scared of these things, they are not as scary as they might sound. This step is quite necessary and cannot be afforded to be skipped.
Adding more to this, you will have to have an EIN (Employer Identification Number) this is a necessary step as you have to give salaries to your employees, carry out purchases regarding your stock and inventory, pay federal taxes and also get your licenses.
Read more about the legalities of the business.
Step 5: Get your website built and designed according to your brand and products
Unlike the designing, interiors, and other furniture and fixtures that you would want for your physical store, here somewhat things are seemingly the same in different ways.
The store-front of your website would have many things in them to ensure that when your customers reach your site they get a feeling of the products that you are dealing in.
Getting your website built and designed accordingly is one of the most important aspects which attracts customers to stay on your page for longer. The site should be very user friendly.
Must read: 21 Best e-commerce platforms for Small Businesses and Startups to sell Products Online
Design
A web design should be as such which would facilitate your SEO experience in a much better way.
Giving not only an impeccable shopping experience to your clients but also ranking on search engines is very important.
Themes and templates are easily available, but to strategically designing your site in an SEO friendly is the key to your online business's success.
Also making your site content-rich by answering your customer's queries even before they ask is by enhancing your website with videos, graphics, etc. for them to better understand your marketing offerings.
The website design should also be as such, where your clients also subscribe to your brand and are ready to receive emails from you, and you can invoke them to buy from you with your email marketing strategies.
Also Read: E-commerce SEO: How to Rank for your products?
Chatbox
when someone enters your online store, you need to be there to attend to them. Physically not possible when you are operating your e-commerce site, but digitally you can use chatbots for their convenience as you will be responding to their queries as soon as they ask.
Hosting
Building up your e-commerce website requires you to get hosting. Good hosting is very essential for your business to sustain and grow. Bad hosting can cause your site to crash unexpectedly and also lower your SEO ranking.
For better ideas of various hosting, read 7 best hosting for e-commerce business
Many people rely on other platforms for their e-commerce business but it is advisable that you build your own e-commerce website to make your own brand's value, however, if you wish to make it cost-effective then you may use other platforms for this purpose.
If you wish to go for other platforms for your e-commerce business then you may have to make a proper distinction amongst all the stores, their pricing, and features, pros, and cons.
Read here- e-commerce business vs. other e-commerce platforms which is better? In this article, we have discussed how both of them are different and how do impact your brand building, revenue, and income.
Step 6: Source your inventory and start listing them on your website
When we were at this stage of our e-commerce business, we decided that since we are just the commuters who will be connecting the world's audience to the Indian artists, we were sure that we don't have to source the inventory by buying it and stocking them up.
But we had such a great task or in better words the complications of attracting artists to our website, after all, they were the ones who could provide us with the artworks (products) that we would be listed on our site.
Also read: What is Dropshipping and How Does Dropshipping Work?
So if you are dealing with something like these things might be a little easier for you.
But what if you have already decided on something that needs to be manufactured and shipped, after all, you don't have a large corporation for it. You don't have to be scared of it at all.
So continue reading if you are have got the drive to actually have your own e-commerce product.
Manufacturing products
So if you are one of those people who haven't still backed out of the idea of having your own e-commerce store, then I do appreciate your drive and passion towards this.
Because the pains of manufacturing a product put off so many people already that it becomes very problematic for beginners to stress about this TOO!
But don't worry we have got a solution for you!
There are many manufacturers whom you can contact locally and if not locally where's your friend Google going away! Many of you would have already thought of or even have finalized a deal with such manufacturers because they might have either finalized a deal with them or have seen them working closely and observing their expertise in it.
I would seriously recommend local manufacturers over the global manufacturers as they have pretty strict prototypes and this might scare you off away even before you start out, their high costs of transportation would create a big hole in your business's capital.
So before starting out with anything else, just find a manufacturer locally so that you have more control over the product's manufacturing and quality, and also save huge sums of money which could have been spent on the delivery and shipping charges.
So if you wish to look for a furniture manufacturer then you may look for "furniture manufacturers near me" or "furniture manufacturers in San Diego"
Looking for local manufacturers online would help in quite a number of ways as firstly you will be able to see their reviews and customers ratings and since you will be able to meet them after you shortlist a few of them, it would be great for you to even keep a charge on the quality of the products.
Later on, being highly optimistic that you will surely gain more customers as the business grows, you might also think of considering some global manufacturers.
The best bid for a global manufacturer would be Alibaba where there are hundreds and thousands of manufacturers available for you, just create a free account and start shortlisting the merchants.
Packaging plays a great role
When we are out there building our own brand in the market where already there are so many players who have made their own fixed place, we must consider such things which might be as small as packaging.
Big companies spend sums as large as millions of dollars for innovative designs for the packaging of their products. If you wish to make your customers happy and make sure that they stick around your brand even in the future you have to make sure to consider the best cost-effective packaging possible by you.
Initially, the e-commerce business would obviously have a tight budget, but don't let this point skip away from your mind at any point in time.
When we had got our first order of a painting we made sure everything was fine and securely stacked, and also seemed good looking.
Make sure to leave a mark of your brand on the packaging which makes it seem more professional and also creates trust in the eyes of the customers.
Obviously, as your business would grow your packaging would improve but for a beginner make sure to do the following things to your website-
The item, even as small as a pen, should be secured and packed properly, keeping in mind also that you use eco-friendly packaging methods for it. It also depends on the companies that you would have a deal with for packaging.

Leave a mark of your brand on the packaging to create assurance of the brand loyalty

Also, have an idea of how your competitors are packaging the products so that there's always a scope of improvement for you
You can always find a local packaging company for yourself which will cut the cost of middlemen if you go online and do it. But if you don't have much time to waste on this then there are ample services being provided by packaging companies for this purpose.
Shipping your products overseas
Shipping your product is also never a problem as you will again get so many companies giving you their best price or even at such fewer amounts because of their existing competitors.
Again good research before e-commerce business is what's required and therefore don't forget those merchants who you can find locally.
But for your specific products always research the international laws regarding those products.
Picture of shipping cost calculators
Make sure to maintain the quality of the pictures of the products that you are even going to be listing on your website so that it doesn't look like a low standard website.
Step 6: Building up the brand value and marketing
Building up the brand value takes a lot of killing of self with so many hours of designing, developing, and product quality and packaging. But when you realize that one mistake you did unintentionally, and everything ruined.
Customer service
The most important aspect to be taken care of in scenarios like these is customer service.
We have always made sure to keep a follow up after we have made a sale. We were so happy to receive good compliments from our customers in return.
Always knowing if the quality and standard were up to the mark or not, and when you are out there competing with such big brands you have to make yourself stand out and also build up the customer base, who would love to come back to shop from you only the next time.
Also read: What is e-commerce CRM and Why do you need one?
This is a picture from our customers after they have sent a picture of how much they loved the painting.
Social media marketing
Creating a buzz on social media is another important aspect that you have to consider. You can start with the photo shoot of your products and advertisements on all the social media platforms to let people know of your upcoming brand in the market.
You can also start with some influencer marketing which means giving the samples of your products to some YouTubers or bloggers of the same niche would help in building up your brand awareness.
A small tip I would like to give everyone is that you should hire an entire team for promoting your brand on social media, especially after your e-commerce site launch, because this is a task that cannot be managed by just a person or two.
When we had started off with social media marketing without a team, everything seemed so confusing and messing up.
Related: What is Inbound Marketing? The ultimate guide to Inbound Marketing
There are many freelancers available online where you can find some social media managers to do it for you.
Also, do research about all the media coverage that your competitors were considering and from where people are getting to know more about them.
Generally, people prefer guest blogging and finding some freelance writers who can write about their product story.
In short, keep your foot in every territory of publicity and continue doing so no matter what condition your business is in, as it helps it a lot in many ways as it may not seem.
Also Read: Social media strategies for e-commerce business
Step 7: Start scaling up your business and also some future planning
When we started our e-commerce store it was just the two of us, my father and I, and with time when the numbers grew on every aspect that could possibly be we were growing more and more insufficient for the whole business to handle everything on our own.
Hence it becomes very inevitable for one to start scaling their start-ups and soon as they realize that their numbers are increasing slowly and steadily, yes, but GROWING.
How do you know your business has started to grow?
When one is starting to track its business growth, these are the following indicators that you should start keeping an open eye to:
The sales per month (This number varies a lot from niche to niche)

Average site traffic and the growth per month – the average number of buyers that have been visiting your site for the last n number of months

Visitors conversion rate – the number of visitors who have purchased from your site

Email subscribers- email subscribers have great potential for your e-commerce.

Social media followers- though these numbers do not have a great contribution to actual sales, they do contribute a lot to the brand value and business's brand recognition so counting on them while assessing your brand's growth

The average number of orders received in the past n months since your site is active

Cart abandonment rate- this is a very important issue that needs to be resolved when that happens to you. However, leaving aside the reasons why that may happen this number also needs to be considered
After these numbers are tracked down we are in a good place to assess the need of hiring more employees and managing small tasks. As believe me it takes tons of mental and physical energy for you to do it on your own, and it is always better to have people around you who can manage these areas so that you focus on more important issues which are KPIs.
But how are these numbers going to tell when one is in need of employees for your e-commerce business?
When these numbers have got an acceleration, then you have got to worry about a lot of aspects which would lead to more sales, but managing all of that becomes a whole lot of a task.
When one notices such a surge in their business report's numbers then it becomes very hard for a single person or even a team of 5 or more people to handle the tasks humanly.
Then the company resorts to inbound marketing, where the need for the number of employees automatically shrinks and the efficiency of the online business to reach out to a wider set of audience increases to a very large extent.
This is what inbound marketing does for you, not only it gives you the opportunity to create the best content for your audience but also market it to the RIGHT people who actually need to see it.
So you need to analyze the need of employees in two ways
Whether you need someone to take your calls, messages, emails and chalk out a schedule

Or you want someone to market your content/brand and come up with great ideas to go about it
When on a low budget, the first task needs to be done by yourself, however with time and growth in your business keeping someone for that task becomes a necessity.
For the second task, you just need the right software to do it for you. The creation of new ideas is your task while performing it technically is much easier with just a little price attached to it.
And that's how you can start your e-commerce business can take a start.
Before heading on to the final tips and suggestions for the sustainment of the e-commerce business, I would like to discuss the following questions that are generally asked by people before starting out.
Can you start an e-commerce business without money?
Absolutely not and especially when you are out there to build a proper business with high future prospects. You have to spend money and there are various necessities you just can't avoid.
You can sell products without money (on Instagram or a free website, but the chances of generating revenue to run your regular bills would also not suffice) where you are the one who creates the products like some paintings or self-designed clothes/handbags, but you have when you are in the real business of e-commerce start-up and you are dead sure about starting out an online business of yours, then I yes you have to spend some money on it.
The better question to ask is….
How much does it cost to start an e-commerce business?
The cost to start an e-commerce business can be minimized to a great extent and therefore first we need to know the absolute necessities that a person has to spend before starting a business.
The Necessary Expenses that you will have to incur no matter what
Domain name
Web Hosting
Inventory, Logistics, and Manufacturing
Payment Processing
Website Developer
Logo Designing
Legal expenses
The Expenses that are recommended (very highly) so that you don't have to slog for a very long time without any revenue
Warehouse
Product photo-shoots
Email marketing software
Apps and Plugins for better website functionality
Marketing and brand building
For more insights into the cost, investment, and capital read here: How much does it cost to start an E-commerce business?
Suggestions for the sustainment of the E-commerce site
Here in this guide, I have discussed how you can begin your own e-commerce business, and not relying on other platforms for selling.
And that being said, I would say that yes running your e-commerce business does take a lot of energy, hard work, and patience.
But nothing is impossible and especially when you have a clear vision for your goals. Once you have decided that this is what you have to do, then you should be turning back.
Researching a lot is the key to success before starting out, chalking out a proper plan, and then taking a step forward with confidence is what it takes.
And coming to how much success can you expect of this venture, then I would say that sky is the limit. Because as I said it takes time to grow but when it grows then your revenues and profits would touch the sky.
For better knowledge and insight into what all it takes to start an e-commerce business, you can sign up for a program where I will not only teach you about how to start your E-commerce business and make it successful but also provide a follow-up for one year so that you don't fall behind on any aspect for just 9.5$ per month.
The best part about your entrepreneurial journey would be that no matter how long you have to work in a day, but you would enjoy doing it a lot.
Let's head onto some tips before you start out
Research even when you think it's more than enough because without researching and without knowing all the success and failure rates, without knowing about the rates and costs of various things don't take a skip forward and regret later on.
Don't hold back on spending money on some necessities, as then otherwise you would just waste time waiting for things to happen
Communication with people whom you hire for some freelancing work, or the inventories you are arranging from or any person who comes in contact with professionally has to be very clear
You need to keep a follow up on every task that you doing or any other person is doing for you because the time and commitment of a business is what creates its brand value so this needs to be very taken care of
Being super under-confident is another aspect that can sometimes cause a lot of hurdles for you. Yes you are just starting out and some mistakes are inevitable and even being very nervous before a big launch is so certain, so just be confident and don't let your under-confidence overpower you
At last, I would just say that if you stumbled upon this thought of starting out, it's for a reason, so do think about it before letting it go.