ALL ABOUT DROPSHIPPING 2021: Benefits, Disadvantages, How to Dropship and more!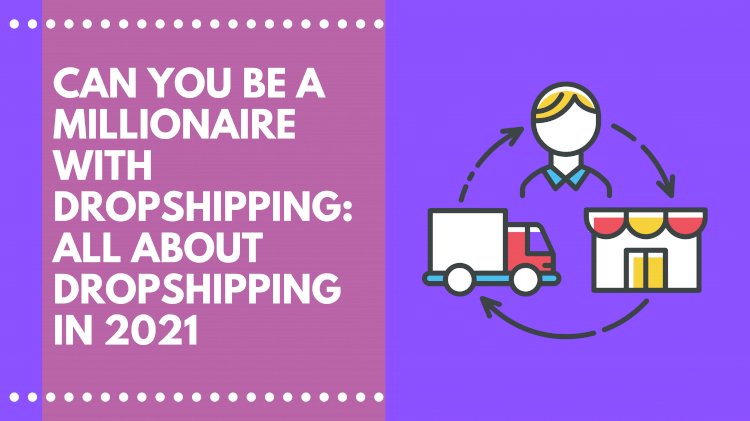 Contents
What is dropshipping? How the dropshipping actually work?
Dropshipping is a form of eCommerce that entails selling various products online without necessarily keeping stock. Upon opening your drop shipping, all you do is sell the products without worrying about shipping or warehousing. It has a unique business model.
The first step is the customer purchasing through your eCommerce site. After that, as the site owner, you take it upon yourself to notify the dropship supplier about that order.
Once the supplier receives the information regarding the order, he packs the product and sends it to the customer directly.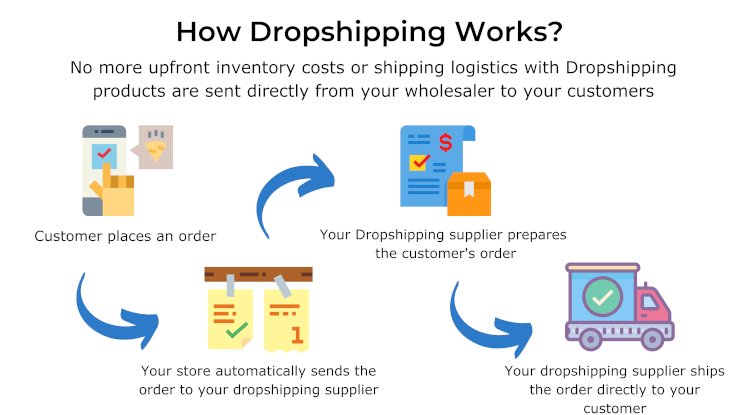 Advantages of Dropshipping
There are several reasons why dropshipping is a great business to start. Let's have a look at some of its benefits and evaluate them
As the owner of an eCommerce site, you don't do much since the demanding task, shipping, is taken care of by the supplier. All you have to do is add products to your site, which is effortless and easy.
The fact that you don't pay for warehousing or inventory makes the risks minimal. Equally important, you are at liberty to stop selling a product if it loses its popularity.
Your only significant concerns are an internet connection and the eCommerce website. As far as stock is concerned, you will only buy a few things, and in other cases, the supplier doesn't charge you. Therefore, you can start dropshipping despite having little capital.
Since you don't need a physical shop, you get to work from the comfort of your house or coach. Therefore, it is quite a flexible business as all you need is an internet connection.
Why you should consider starting dropshipping?
There are several reasons why dropshipping is a great business to start compared to others. Let's take a look at some of its benefits.
Its future seems bright
Statistics show that the demand for online shopping has been increasing annually. Consequently, the industry has been registering stable growth for a while. Forecasts also show that it is going to even get better with time. As it increases, the dropshipping market also increases. Therefore, you will most likely have customers after starting such a business.
It is easy to start
Unlike other businesses, dropshipping only requires an e-commerce site, and some platforms will help you create one within a short period. Therefore, it is possible to have a dropshipping business up and running within no time. Stocking shouldn't be something to worry about since you will only buy a few things. In other cases, the supplier will provide them at a relatively low price. Therefore, you can start dropshipping despite having little capital.
It has minimum risks
Upon starting a dropshipping business, you will realize that the risks are low. For instance, you don't pay for warehousing or inventory because such responsibilities belong to the supplier. With such demanding tasks off your shoulders, running the business becomes simple. After all, it is not your job to worry about logistics, shipping, and warehousing. Neither do you have to pay workers who need to be paid whether you make any profits or not? Equally important, if something loses its popularity, you can quickly stop selling the product since the stock is also minimal.
Now that you know the benefits let's learn how to get started.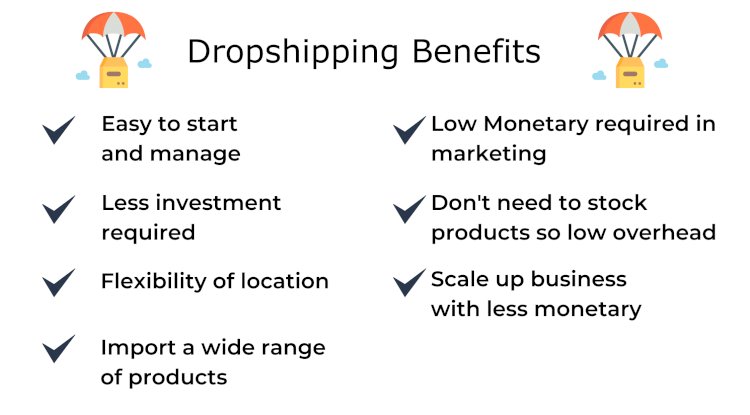 Disadvantages of Dropshipping
Processing your orders can become difficult
Mostly Companies that use the Dropshipping sales strategy have many wholesalers working for them, each of whom would have different requirements for order processing, billing and shipping.
This can make things very complicated.
The time between selling a product and then getting it shipped can also take longer, and several other unforeseen events, as this part now is out of your duty and you are dependent on the supplier to process the order quickly.
Not having most of the Product Information is Problematic
Since you never handle the products that you are selling, you have no real idea of what they are exactly like.
You cant answer general customer queries about the products' dimensions, weight, ease of use and many other things as the manufacturer doesn't give you enough of a product description.
These questions can be answered by and therefore are constantly forwarded, to the supplier, which is time-consuming and causes delays when communicating with customers.
Lack of information and real experience of the product will also harm your SEO as it would mean that you can provide less useful and unique content on the website.
Empty stock and No Information!
If you don't choose the supplier correctly, you might discover that the product you purchased is out of stock.
This can typically happen if you use Drop Shipping on eBay and it's immensely frustrating for customers who are under the impression that they had purchased a product to find out that they actually didn't. It will lead to bad reputation for your business and losing out on customers.
An automated system that updates stock availability regularly throughout the day is preferable, which would help you get out of this problem.
You could also request an email or phone call from the supplier if the stock has run out, but there is no guarantee that you would get a call from them when it does happen.
Dropshipping removes the responsibility of shipping but it also removes a large part of the customer experience from your control. As everyone already knows, getting customers and retaining them in your online business is the biggest problem, and when issues like these erupt you are left thinking what went wrong where!
There's no way to ensure that a product has arrived on time or as described. Even the customer queries arent answered many times. Which would cause them to run away to elsewhere where they are shown care.
When a customer calls to either complain or enquire, the process of resolution is delayed as you often don't have the necessary information and the query or complaint gets passed on to a third-party supplier before it can be solved.
This issue needs to be solved otherwise you will be on the verge of exiting the market given that you are left with no customers.
A vast amount of competition is everywhere
There is no sector where you would face no competition, and soon as dropshipping became trendy due to its attractive features of doing the business, many competitors came along.
The profit margins of dropshipping products at time quite be low as many manufacturers charge for the fulfillment service so you have a little room to control your prices in order to get ahead of your competitors.
Therefore taking a step with this business doesn't mean that you have got to think about nothing about many things. To run the business ultimately you have to evaluate from various benefits and the problems that it might pose, so this decision should be taken with much thought given to it.
The problems that arise would obviously be solved as is solved by careful planning and implementation of communication between the seller and the supplier and by various people who are already in the business, just learn from them!
With enough thought, the disadvantages can be avoided.
How to Start your Dropshipping Business: Step by Step Guide
Since dropshipping has proven to be rewarding, venturing into it wouldn't be such a bad idea. As great as it may be, that doesn't mean that everyone who tries it succeeds. How do you ensure that you don't end up like the unsuccessful ones? First of all, you need to understand what dropshipping is all about. Understanding its benefits would also motivate you to do all that's possible so that you can enjoy them. However, the most important thing is understanding how to start your dropshipping business the right way. Fortunately for you, this article has all the answers, including a step-by-step guide on how to start your dropshipping business. Read on so as not to start on the wrong foot.
A Step by Step Guide on how to start your dropshipping business
These are the steps that you need to follow if you want to create a dropshipping business.
Choose a niche
It is hard to market a wide range of products all at once. Therefore, choose a category of related products, preferably a niche you are passionate about. Ensure that the niche has excellent profits because that's the goal of any business. Typical discounts by various eCommerce include free shipping costs. Therefore, finding a niche with low shipping costs would help you use such a feature to entice more customers to your dropshipping business. Some people often do impulse buying because they can afford to do so, so the niche you choose should attract such people.
Don't forget that many people can find you through search engines. Therefore, ensure that the products you are using are among the trends. Otherwise, it may be hard to sell something on your eCommerce site if no one is searching for it. Branding adds value to your dropshipping business, which is why you should look for products that allow you to rebrand them. That customization will help your business become famous and also grow.
As you select a niche, don't settle for readily available products. After all, people will most likely buy them locally than online.
Research the competition
Many are times when you will not be alone in that niche. Some of your competitors will be giants like Amazon and Walmart. That's good because it shows your niche is on demand. After all, lack of competition may be bad news. It could mean that the products gave small profit margins, issues with manufacturers, or the shipping cost is high. By doing the competition research, you will identify competitive products which lead to a sustainable business model.
Find the right supplier
Keep in mind that you can't afford to choose the wrong supplier because it will be suicidal. It would be best if you understood each other, and top-notch communication is also crucial. On top of that, ensure that he supplies quality products because that's the only way you can be sure that customers will be happy. If happy, you will receive great reviews, new customers, and returning buyers as well. Don't agree to settle for a high per-order fee. Last but not least, go for fast shipping suppliers for obvious reasons. How? Do due diligence to ensure that the supplier you choose has all the necessary qualities. Other people in your business could also help by sharing their experiences.
Instead of going for physical suppliers, you can also choose AliExpress. It can be a good starting point due to the many options available. It is also free and easy to use.
Develop an e-commerce website
You can choose to do it from scratch by why go through all the hassle when you can choose an e-commerce platform to do that? An excellent is Shopify which can cost you as little as $29 monthly hence affordable. Such platforms are easy to use even when you have no experience in programming and web development. It also has ways of helping you increase your sales. They also cost less, decreasing the capital required to get started. If you decide to hire a web developer later, it will be fair because it will be established by then.
It is now time to find customers
What the need for having the best niche, products, supplier, and e-commerce site if you don't have customers? That's why you need a plan to create customers. Fortunately, you will be spoilt with options once you start looking for ways to lure as many customers as possible. Choose an effective method such as a Facebook ad campaign for customer acquisition lest no customers will buy from you. Since it exposes your advert to a vast audience, it keeps you at par with the giants in this industry, leading to healthy competition.
As we advance, keep in mind that you will be doing this for a long time. Therefore, look for sustainable strategies such as email marketing and SEO. They could ensure that you don't incur additional costs advertising your business in the long run.
Prioritize the happiness of your customers
When it comes to any online business, maintaining an existing customer is always easier than getting a new one. Why then would you do anything that could make you lose even a single one? That's why you should strive to make them happy at all times. Provide them with the best customer support and always ship on if not before time. In case of a complaint, handle it as soon as possible without letting the situation escalate. It is hard to fix a bad reputation, and only happy customers will ensure that yours is excellent at all times.
Track its progress
Once the site is up and running, make it a habit to analyze it often. Don't overlook any metrics or data as the business continues growing. Facebook pixel and Google Analytics can help you keep track of all the necessary data. The former comes in handy if Facebook is your primary source of customers, but if relying on search engines, Google analytics is your choice. Remember that the two are compatible; hence can work hand in hand to ensure you get the highest profit possible.
Use the data to know what's working and what's not. That will help you avoid paying for marketing and advertisement methods that bear no fruits. Be on the lookout because new options keep popping up every day. You will be surprised to identify new tools that are working well despite being new. Please take advantage of them because what matters is the results.
Once you identify ways of improving your e-commerce website, could you not take them for granted? On the contrary, use them to optimize your site so that it can rank high. It is the only way you can overrank your predecessors in the niche you choose.
Dropshipping Done Right By Anthony Del Rio: A Million-Dollar Amazon Dropshipper
Ecommerce Online Businesses have paved their ways into this digital world, where new opportunities are daily popping up for people to take hold of to become a millionaire.
After all business is all about Opportunities.
Dropshipping Business lures people because of its amazing benefits, where you don't have to physically take control of any of the products and they earn profit from each and every sale made, when you are not even a supplier.
Anthony Del Rio, had a dream of his own successful business, which wasn't intimatated by the shadows of many opprotunities being slipped away from his hands given that he was a high school dropout. But your inner self calling for a business is not just a random voice, was proved by Anthony Del Rio.
But ofcourse success never comes that easy, and when he began to start investing in his knowledge through various courses he discovered the boom of the ecommerce industry as a whole and thought of entering into it at the correct time.
Since his money was spent on learning different things, he didn't have much capital for a new business. But guess what, you don't have to have much money as a capital for Dropshipping Business.
He chose Amazon as his dropshipping store as it was a Global Giant of Ecommerce with a global customer base for the products to be sold! So he never had to worry about the expensive ad campaigns and telling customers the quality of his products.
So since there are so many suppliers for the products on Amazon, Del Rio understood that he could pick up the best products with high profit margins. He quit his job and within six months he was earning 6 figure income!
Is it possible to become a millionaire using dropshipping?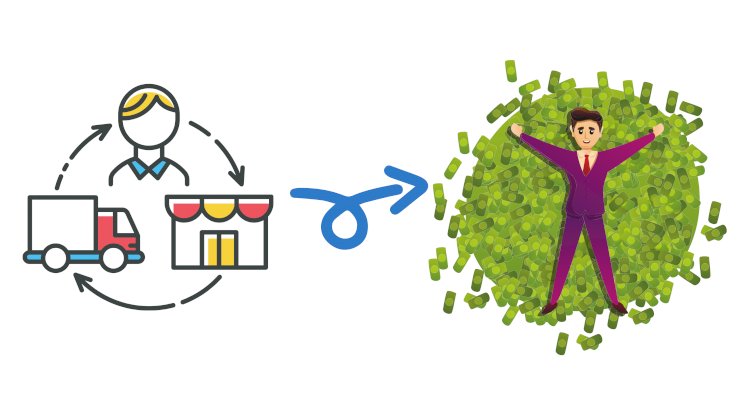 Yes, of course, dropshipping can make you rich, the time depends on your hard work.
There are thousands of people (one example given above) who make 6–7 figures per month with dropshipping. However, the journey to success isn't very easy, which ofcourse is the case with every business, so don't let this blow your spirits.
It does involve a lot of product testing, analysing product margins of various suppliers and at the same time finding your niche too, to finally get a winning product that's going to make you millions.
But, there are a lot of people who fail at dropshipping too. The main reason is that they do not test many products as successful drop shippers. As a Dropshipper you have options to test out various products in the course of your journey. Because the chances that you get a winning product on your very first try is very low.
So, that means you will need a significant amount of money to get started in dropshipping. Anywhere from $500-$1000 dollars is what I would recommend you to have in your hand before you even start dropshipping.
Conclusion
From the above discussion, dropshipping business is a viable investment. It has a long list of benefits. From convenience to minimize risks to small capital to simplicity, the business model is just unique. Anyone can try it and register success, and you are no exception. However, ensure that you do it the right way.
Failure to do so will result in losses and collapse of the business eventually. Fortunately, you have a guide at your disposal to help you start a dropshipping business by the book. So, take a step forward so that you can have a successful dropshipping business in the future.