10 Best Free E-mail Marketing Software for your E-Commerce Marketing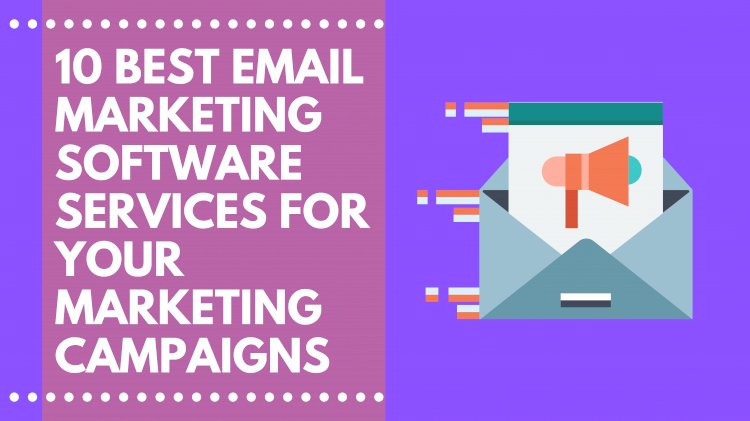 You want to grow your business – and need email marketing software that's easy to use, affordable, and will turn your leads into customers – right?
It sounds simple enough, but with an overwhelming 450+ email marketing tools to choose from – and with every email marketing company's website saying the
the same thing, it's anything but simple.
Also read: Best E-mail marketing strategies for your E-commerce Business
To identify the best email marketing software for different businesses, we surveyed 1,700+ marketers – ranging from single-person startups to Fortune 500
CMOS – who was in the process of changing email marketing software to understand which tool they're moving from and to – and why.
Email marketing software dataset

You can access the dataset we use to identify the top 10 email marketing software providers at the end of this guide. The following top 10 list is the result of hundreds of hours of research, that I hope will assist you in choosing the perfect email marketing software for you.
Contents
1. HubSpot
Best for B2B Service Businesses
Hubspot is world-class in offering businesses an all-in-one sales and marketing platform that includes a CRM, landing pages, email marketing, marketing automation, chat, forms, and everything in between.
Hubspot's email builder
While some argue that 'trying to do everything' is Hubspot's downfall, it does enable them to do one thing exceptionally well; Reporting.
"Half the money I spend on advertising is wasted; the trouble is I don't know which half."
– John Wanamaker
Mr. Wanamaker, obviously, didn't use Hubspot.
By using Hubspot as the backbone of your marketing and sales, you can more easily attribute revenue back to the marketing campaign, newsletter, or blog post that influenced each sale. In this sense, Hubspot is more of a CRM that offers email marketing and automation, rather than vice versa.
Also read: 15 reasons why go HubSpot for Inbound Marketing? A comprehensive guide for e-commerce businesses
A word of caution about Hubspot's price-creep.
While much-loved, Hubspot is the second most likely response (behind Mailchimp) to "Which email marketing software are you leaving?" in our survey of 1,700+ email marketers. The reason is almost always the same; Price.
Hubspot position themselves as an affordable option for small businesses by offering (very limited) free versions of their products – but don't be fooled by the Hubspot gateway-drug. Their platform becomes exponentially expensive as your list or feature requirements grow.
One business owner I spoke with started on a $50/mo plan, and within a year needed a $2,000/mo plan that had to be paid annually. The only difference was an extra 15,000 contacts and adding marketing automation, yet they jumped from seeing $50 leave the bank to $24,000.
This is where I feel conflicted about Hubspot.
On the one hand, you could get the same functionality for one-tenth of the price using ActiveCampaign, Benchmark, or half of the tools in this guide. On the other hand, if the value of knowing what influenced each sale is a problem worth paying a five-figure sum to solve, then Hubspot is a strong contender.
This is why we suggest that Hubspot is an ideal choice for B2B service companies, where the value of winning an extra one or two clients a year would easily cover the cost of Hubspot. This extends to larger, or more sophisticated, agencies that must provide clients with in-depth reports on their marketing funnel.
If you just need email marketing software, Hubspot is probably overkilled. But if your search for email marketing software is part of a wider plan to raise to your marketing game and improve performance across your entire sales and marketing funnel, Hubspot is a strong contender – but don't expect it to be cheap.
Pros
Social media scheduling. A comprehensive and easy-to-use social calendar allows you to easily schedule posts and get an overarching view of social activities for the month and beyond.
Email marketing. The templates provided allow me to easily create, beautiful professional emails.
Landing pages and forms. I can easily track submissions with the forms and the templates provided for a landing page ease a major pain point.
Cons
Because HubSpot [Marketing Hub] charges by a number of contacts in the system, it can become expensive and a little limiting. Consider re-evaluating the degrees of membership: enterprise, professional, etc.
Say a customer or prospect inputted their personal information incorrectly on the form, if they re-submit the info with the correct details, the form submission does not override the previous one. So, there's extra information that's not needed and could potentially be misleading.
To me, workflows are pretty confusing so providing better documentation and videos to describe how they work would be helpful.
Also read: 15 Common Email marketing mistakes to avoid in 2021!
2. SendinBlue
Best for value-based email
SendinBlue is most popular as one of the main value-based email administrations. Expanding on this standing they assembled an email showcasing computerization item.
We use Sendinblue to send conditional messages for two of our endeavors (Leadformly and Serene), as they're one of only a handful few email advertising suppliers with workers in the European Union (which assists with our GDPR consistency) and they have great deliverability rates (we're at present at 98%).
While I can't remark on their showcasing robotization highlights from direct insight, it's obvious from our client studies that it's acceptable, however comes up short on a portion of the further developed highlights, (for example, objective following, local combinations, and explanations).
In the event that you need an email advertising device with a strong API to get your messages into inboxes with a decent deliverability rate, Sendinblue's pre-assembled designer plans to settle on it a phenomenal decision.
What are SendinBlue's key highlights?
Showcasing robotization
SMS
Live talk
CRM
Value-based email
Points of arrival
Information exchange structures
Facebook Ads
Pros
Offers SMS campaigns
Offers a free plan
Responsive design templates are available
Offers transactional and autoresponder email options
Cons
Templates are limited
Account set-up can be confusing
3. ConvertKit
Best for bloggers
ConvertKit is a relatively simple email marketing tool used almost exclusively by bloggers and online course instructors to develop their personal brands.
Their platform has no bells or whistles. It doesn't even have email templates, as ConvertKit encourages its users to send plain-text emails to increase engagement. As most of its users are individuals trying to build a personal brand this makes sense, but it does make ConvertKit a poor fit for other use cases.
If you're a creator that just needs a simple tool to serve your audience with regular content, there's no better tool.
Also read: How to start Blogging as an Online Business?
Pros
Best-in-class deliverability
Simple& Easy-to-use
Fantastic User Experience
Cons
Expensive in comparison to competitors
Lacks Integrations with eCommerce Platforms
Not great for managing multiple clients
4. Mailchimp
Mailchimp is an all-in-one marketing platform that helps you manage and talk to your clients, customers, and other interested parties. Our approach to marketing focuses on healthy contact management practices, beautifully designed campaigns, and powerful data analysis.
Pros
Mailchimp tracks our subscribers from social networks or other pages related to our management so that it is possible to detect which ones have been unsubscribed to decide whether to add them to future retargeting campaigns.
Emails are fully programmable, so it is not necessary to publish them manually.
Links to A-B tests can be added in different tests.
Cons
Mailchimp does not work with dynamic enough content as it offers so few capabilities to personalize campaigns.
Sometimes we need to reuse some images previously uploaded to the platform, but these are not stored in an internal gallery, which would help to improve the speed when working with similar campaigns.
Sometimes the lists that we decide to mark as default lists are not saved.
5. Autopilot
Best for marketing automation
Gone are the days where email marketing is about sending bulk newsletters.
In today's digital landscape, it's essential for email marketing to be smart; sending the right messages to the right leads at the right time, automatically.
That's why all of our top ten email marketing providers provide marketing automation. As the name would suggest, this is Autopilot's forte. To boot, they have one of the best-designed canvases for building email automation sequences.
Autopilot's marketing automation annotations
Anyone who has ever built an email automation sequence knows how quickly they can become confusing. Autopilot solves this in a rather quirky way, allowing you to annotate your automation sequences with emojis, stickers, and explanations, making it easy for teams to collaborate on building sequences.
Yes, it can get messy – but I'd rather that and be able to understand what's going on, than having beautiful automation sequences that take half an hour to interpret.
Another feature I love about Autopilot is its ability to trigger actions in your other tools inside Autopilot. This saves having to configure integrations using a tool like Zapier and makes your sequences much easier to understand.
Autopilot third-party integrations
Autopilot's reporting is also excellent, though, I'll go into this in more detail in our section on reporting and analytics below.
Starting at $49/month for 2,000 contacts, Autopilot is far from the cheapest option, particularly considering that Autopilot does not offer an in-built CRM. However, Autopilot is extremely intuitive and great for teams that need to collaborate on powerful email automation sequences. If we had to move from ActiveCampaign, this is likely where we'd go.
Pros and Cons
The use of social media in your automation (many tools fail at this).
Great visual customer journey builder. It's so clean and easy to use.
Fast and not too many functions, make this an easy-to-use tool.
They are working on more and more integrations but they still miss some of the big ones.
They are playing a lot with the pricing. (For the bad.)
The email builder has its limits in customization.
Also read: 7 Best Hosting for Ecommerce Businesses
6. Omnisend
Best for medium-large eCommerce brands
Omnisend is quickly becoming one of the leading marketing platforms for eCommerce stores.
Designed to help eCommerce brands control their marketing across multiple channels, Omnisend offers automated email, SMS, push notifications, and most impressively, integrations with Google Ads, Instagram, Facebook Ads, Messenger, and Whatsapp – which they claim have 10X higher click-through rates than email.
Omnisend automation
By focusing purely on eCommerce, Omnisend has built innovative email templates designed to reduce cart abandonment and drive repeat buyers. From 'wheel of fortune' offers to virtual scratch cards and birthday discounts, it's evident that Omnisend's built by a team intimately aware of what works in eCommerce.
Omnisend campaign templates
As you'd expect of an eCommerce email marketing tool, Omnisend hooks into most eCommerce platforms, including Magento, Shopify, and BigCommerce. Where Omnisend goes one step further is in integrating with review, loyalty, and help desk platforms, such as Yotpo, Smile.io, and ReCharge.
This not only enables Omnisend to report on how your campaigns impact sales, but enables you to trigger email, SMS, and social campaigns based around your customer behavior to reduce cart abandonment, increase return buyers, drive more product reviews, and more.
Omnisend reporting
If you want the features that make Omnisend stand out, you'll need a PRO account that starts at $199/month for up to 10,000 contacts. While not the cheapest, nor the easiest to use, Omnisend is a good option for eCommerce brands that want one multi-channel platform to rule them all.
What are Omnisend's key features?
Visual email builder
Email, SMS, and Push notifications
Transactional and marketing emails
Dynamic discount codes
eCommerce Segmentation
Retargeting
Surveys and Polls
Reporting
Popups and forms – wheel fortune, scratch cards, etc.
A/B Testing
Pros and Cons
Omnisend permits 2000 emails sent per day with the free plan once linked to your website.
Omnisend permits unlimited contacts with a free plan when most other providers have a limit unless you opt for a paid subscription.
A larger selection of templates
More flexibility with customization
7. ActiveCampaign
Best for small businesses & enterprises
Once an underdog, ActiveCampaign is now one of the most popular email marketing tools with over 130,000 small business customers.
ActiveCampaign offers a collection of customer experience automation (CXA) tools – from SMS & email marketing to site messaging and CRM functionality.
ActiveCampaign's newsletter editor
ActiveCampaign's intuitive drag-and-drop email marketing designer
At the heart of ActiveCampaign's platform is the automation builder; A visual canvas for building automated marketing sequences across channels.
ActiveCampaign's visual automation editor
ActiveCampaign's automation builder makes building automation easy, similar to reading a flowchart
Unlike some tools that require expensive consultants and training to use, ActiveCampaign's intuitive design enables anyone to craft powerful email automation sequences from scratch or by importing one of their 500+ automation recipes.
While email A/B testing is offered by most tools in the top 10, ActiveCampaign goes one step further by allowing you to run A/B split tests of entire automation sequences. This means you can test anything – from the number of touchpoints to the delays between emails and beyond. All of this ensures that your marketing improves with time – on autopilot.
ActiveCampaign split automation
Advanced automation capabilities like split actions and A/B testing make it easier to optimize your performance
As an all-in-one sales and marketing tool for small businesses, ActiveCampaign comes with an in-built CRM system to manage your sales, live chat, and of course email marketing automation in one place.
ActiveCampaign CRM
A built-in sales CRM makes it easier to manage deals but also connects to ActiveCampaign's powerful automation engine
And, incredibly, they've done all of this with a price tag that's 1/10th of many email marketing tools featured in this guide – starting at $9/month. Our survey respondents using ActiveCampaign were overwhelmingly positive about it – and it was one of the most likely tools that businesses of all sizes were likely to move to.
What are ActiveCampaign's Key Features?
125+ Email templates
500+ Automation recipes
800+ Integrations
Landing pages
SMS messaging
Custom reporting
Web personalization
CRM
Split actions and A/B Testing
Predictive content
Predictive sending
Goal tracking and attribution
For the vast majority of small businesses looking for a great email marketing tool that's easy to use and affordable, ActiveCampaign is likely the best balance of power, affordability, and ease of use.
Pros and Cons
Tracking the customer behavior across multiple marketing channels
Adapting and aligning our marketing strategies to the interests of the customer
Keeping records of our customer history in a single database
A drip functionality can help avoid spam filters, especially when sending campaigns to an extremely large list.
A blank image box may appear below the image when I use the drag and drop option to add an image
8. Benchmark
Best for agencies
Benchmark is an interesting option for any business looking for a well-designed and easy-to-use email marketing tool.
While not quite as well known as other tools in the top ten, they've become an increasingly popular response to "Which tool are you moving to?" in our survey. Benchmarks do everything pretty well and are reasonably priced, but there's one thing that really sets them apart from other email marketing tools – and that design.
Everything from their templates to the platform itself is beautifully designed – and not just visually attractive, but great user experience. While that may seem trivial to some, it makes all the difference when it comes to understanding your data and creating the right impression with contacts.
Benchmark is a good choice for any small business that needs simple, easy-to-use email marketing and automation software. It's likely to be a particularly good choice for small agencies and consultancies where design is important both from a staff training perspective – and also providing a good experience for clients.
What are Benchmark's key features?
Visual email builder
Marketing automation
1,500+ Integrations
Landing pages
Surveys and Polls
Reporting
Signup forms
A/B Testing
Pros
It gives you a performance improvement
Because you're looking at the best practices of each business task that must be completed, benchmarking allows you to locate areas where you might be inefficient.
Many organizations get stuck in the "We've always done things this way" trap. As time progresses, standards evolve. Processes improve
It places the focus on change
Benchmarking forces you to set and then follow a minimum standard of excellence.
Cons
It doesn't really measure the effectiveness
When you're instituting best practices, you are examining specific efficiencies under a microscopic lens.
It is often treated as a solo activity
Benchmarking is important, but it can't be the only thing a business does in order to institute change.
There tends to be a certain level of complacency
The biggest trap of benchmarking occurs when a business is able to exceed the standards of its competition
9. Drip
Best for smaller eCommerce stores
I think it's fair to say that Drip's focus is on smaller to medium-sized eCommerce businesses, whereas our next email marketing tool (Omnisend) seems better suited to the larger eCommerce stores. As you'd expect, Drip integrates deeply with all mainstream eCommerce platforms like Shopify, Magento, and WooCommerce – as well as the more obscure and custom-made ones.
With built-in revenue analytics and tools to engage customers across multiple channels (from social channels to SMS) Drip is ideally positioned as a powerful tool for growing eCommerce stores. Their pricing is also palatable, starting at $19/mo for small list sizes.
What are Drip's key features?
Visual automation
Email and SMS marketing
Dynamic eCommerce content blocks
Discount codes
eCommerce Segmentation
Retargeting
eCommerce store integrations
Reporting dashboards
Split testing sequences
Pros
Drip campaigns don't overwhelm your audience
The biggest advantage of this type of marketing campaign is the process itself. Through gradual exposure, the target audience is less likely to be overwhelmed in the initial phase of the marketing campaign.
Control strategy and exposure of your content
This brings up the second advantage of a drip campaign: customizability. In addition to controlling the content of the campaign, a drip campaign gives you control over the strategy and exposure of that content as well.
You will stay on your audience's mind
Finally, a drip campaign can be somewhat novel in its own right. When a marketing campaign is unique in its very format, being something that most target audiences haven't experienced before, they are more likely to pay attention to the advertising content in the first place.
Cons
Requires time and commitment
Like many marketing campaigns, the biggest disadvantage to a drip campaign is the time commitment it requires for success. Repeated exposure is key.
Trial and error of the timeline
If you are starting from scratch with little to no experience with drip campaigns, you may find yourself making a few mistakes initially. This shouldn't be reason enough to dismiss a drip campaign outright.
10. MailerLite
Best for personal projects
At the opposite end of the price spectrum, we have MailerLite, which is among the best email marketing tools for value for money (it's free for sending up to 12,000 emails/month to less than 1,000 contacts). Unlike the other beginner email marketing tools out there, MailerLite is a universally good tool irrespective of industry. Whether you're growing a small charity, a side hustle, or are a freelancer starting out, MailerLite offers everything you need to send bulk email marketing campaigns.
Mailerlite newsletter campaign builder
If you're a small business, I'd suggest that a tool like ActiveCampaign may be a better fit, as they offer an in-built CRM and more advanced marketing features for roughly the same price. For beginners and personal projects, where you just need to send beautiful email campaigns to engage your audience, MailerLite is ideal.
If you want to give MailerLite a spin, the folks there have kindly offered Venture Harbour readers an extended 30-day trial (instead of 14 days) via this link.
Pros
It is a cheap email marketing software
Solid landing page and website builder
Advanced automation tools
Simple, clean interface
Strong email editor with great modules for use
Cons
Social marketing integration (no Facebook/Instagram integration)
ActiveCampaign and others have automation that can trigger directly from website visits
Conclusion

Email marketing is a fully grown and well-used tactic for business promotion via
emails. It is cost-effective, easily executed, and gives a good impact on your
campaigns.
Email marketing does not replace your other marketing activities but compliments them extremely well. A well-run and good email marketing campaign can grow your customer pool and add to customer's loyalty.
Hearing from your brand repeatedly, with good content reminds readers of your business' value, especially if they take your advice and find it works for them. Although email marketing comes with lower risks and higher profitability, however, this can only be achieved through proper planning and execution tuning
into higher success rates for your business.