How to start a Blog and make Money as an Online Business!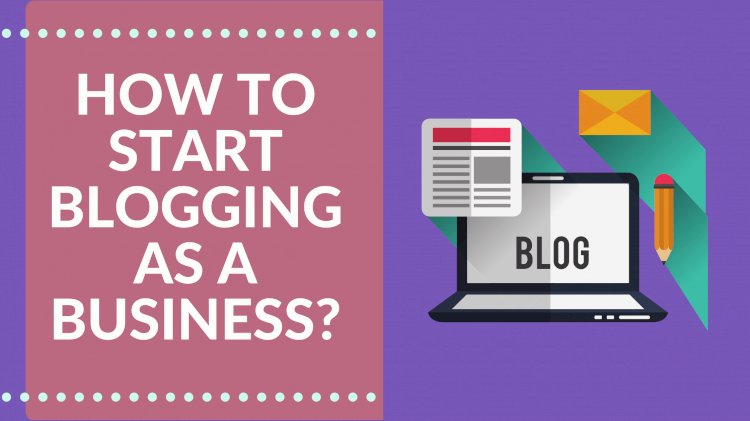 If you are a business owner and if you are thinking to choose writing blogs as an online business. Then you are at the right place here and so we will provide you all steps that will help you to build your online business as a blog writer.
Many business professionals are earning through this business online. Even if they are Individual professional or company owners, they choose this business to earn through this modern way. You require following certain steps to walk on the right path so that you can imagine yourself as a great blogger in the form of an online business developer and earn money through it as well.
Contents
The 5 Essential things also necessary for Blogging
11 Steps to Start Blogging as a business

Here, in this article, we will provide you all the steps that contain complete information about all things which you need to take care of at the time of blog writing and to develop this business online.
Blog writing is a wonderful business for the professional who knows Computer, Internet, Business, and Information Technology and for those who are aware of eCommerce, business growth and development, etc.
If you are familiar with Search Engine Optimization then this is a positive point for you. With this you should know about your website and website with Word Press, traffic generates online, quickly maintaining your website.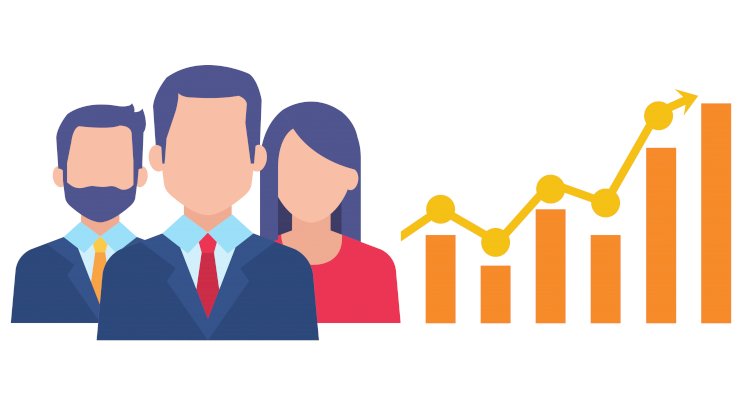 You can even consider this job a full-time job.
We are always aimed to write a blog for different and various purposes as it is required. These reasons may include but not limited up to generate online traffic, earn money online, sharing information for something that may be related to politics, economic, earth, Country, City, etc., to make a professional resume, to develop our writing capacity, and many more things that we may consider.
There may be many reasons to begin this business in your professionalism. These include but not limited to: -
To earn and save money for your retirement.
To have a full-time job and to say bye-bye for always to your private job.
To spend much of the time with your family members.
To earn for your vacations
To earn for your education
To earn to support your own family
There is always an aim, to begin with, this online business of Blog Writing. Most of the people choose this business because they do not want to hog always as 9 am to 6 pm Job.
When I asked one of the bloggers I know, who now are in a pretty good position at this moment, they said

Firstly, When I was writing my first Blog, I found that this is an amazing job for me. Because no one is my boss now and I am the one who is the Boss of my own and I am the one who has complete freedom now on my daily routine time and to spend most of the time with my family.
Secondly, I found myself that I can do something now on my own and so here I do not need any other person's help and even I do not need to argue with somebody because I am not in the office place and this is my place and so I am everything now.
Thirdly, I never knew that what can I do for myself and my family but when I started this business then I came to know that I am something now who can help my own family for survival and family savings. These things I came to know when I had started this business and earning online with this.

When I self-started research online about blog writing and content generation and online business then there I found a lot of things and really I learned a lot about this and that really helped a lot here about my Blog Writing Business Growth & Development. I also made research on competitor's blogs' website, their thoughts, and the latest challenges as well to be careful while we are running our Blog Writing Online Business.
The 5 Essential things also necessary for Blogging
In this blog writing online business, there are certain areas where you will face major challenges and these are

1. Niche Selection
2. Affiliate Marketing
3. Design and Visual Content
4. Keyword Research and SEO
5. Content Writing and Content Marketing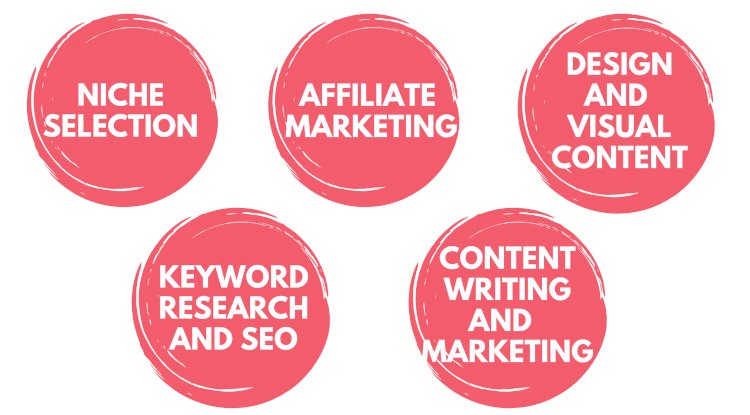 There are five elements that you need to focus on most and these are

1. You will face 3 stages of blogging and these are launch, grow, monetize. Throughout these 3 stages, you will face the challenges of Content, SEO, and Affiliate Marketing, etc.

2. A blogger should not consider these stages as a different stage while doing this job, he/she shall consider all things all together to perform best and to give a better output for their blog writing online business. To earn money online through this business, he/she needs to consider first quality content, SEO method and should focus on the revenue generation keywords to get real benefits after doing affiliate marketing.

3. If you are new in this blog writing online business then from day one you need to monetize.

4. A blogger should know about Master Keyword Research which should be based on money-making Affiliate themes.

5. You should have a creative nature and keep in mind meaningful thoughts while blog writing. Never tell anyone about your thoughts on blog writing in the starting. Always keep patience and passion towards blog writing and then once it got published well online then you can measure its growth and monetization.


We have 11 Easy Steps for You to start Blog as an Online Business

1. Always Select Blog's Niche -
A blog always requires a niche whatever is the case underwater parkour solo dancing, Crossfit exercises, marketing, cooking, vegan dog sitting, etc. and whichever topic you choose, you always need a lot of things to figure out in a Blog.

A professional writer may assist you here such as he may advise you to choose a correct path while writing about a blog, you should keep in mind that what is the topic and so accordingly inflow, you should write about that.

Four things you should have while writing a blog, in which first is 'passion' towards the writing blog, second 'skills' for writing blog, and third is 'experience' for blog writing and fourth is 'monetization'.

If you are maintaining above mentioned 4 things, so it means you are a perfect blog writer.

Normally, it takes at least 1 year to start earning with blog writing.

Normally, people think that they will start earning from the first day even while they do not have traffic, no following, and not a single rupee from the blogs they have published online.

So you should know this is not so easy, you need to keep some patience and should carry your efforts for writing blogs and publishing online.

Most of the content writer, they leave their job of writing such blog writing content, because they do not get any result and they do not earn the money through this.

Now the things that you should do from day one and these are:-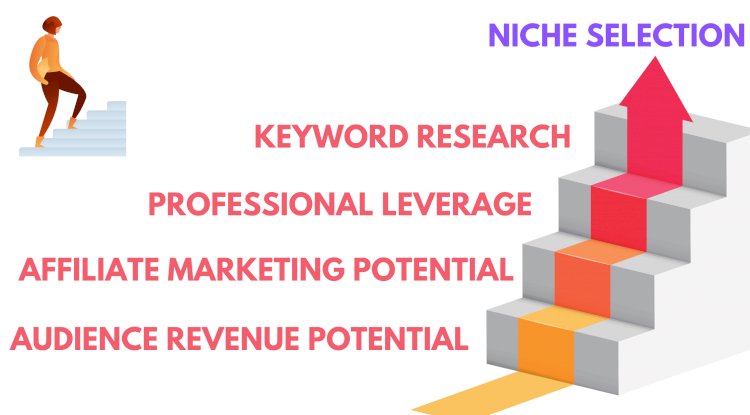 1.1. Audience Revenue Potential: -
As a blogger, you need to understand first your audience that what exactly they want from your blog? Why will they read your blog? You need to go in deep with your audience so that exactly you can deliver in your blog. So it should be attractive, readable, interesting, and knowledgeable.

Put yourself in place of the audience, and think like them, so in this way, you will be able to know what exactly your blog visitors want from your blog and so you can gather the information which is most important for your blogs.

Most of the people focus on:-

a. Audience of age between 25-45 years old
b. Working Hours 9 to 5 at home
c. Ready to be a hustle
d. Smart and Intelligent Professional
e. Making passive income through a blog

The first step in writing a blog is – you should understand your audience first.

In the second step, you need to know that an audience would like to spend money to solve their issues and if yes then how much?


1.2. Affiliate Marketing Potential: -
Affiliate marketing is one of the best parts of blog monetization. Through this, you will be able to generate traffic online to your blog and so you will be able to earn money online through it.

Normally, Affiliate marketing is the way to publish products and services of a company to another website and receiving a commission on every sale.

How to Start Affiliate Marketing: -

a. Firstly, you should have your domain and domain email id. You may not use your Gmail id here.
b. Now you need to apply for Affiliate Partnership through the Company's Affiliate program on its website.
c. Once it gets approved by the partner company, then they will provide you an Affiliate Link, now you need to use this link and paste it on your blog wherever you think, it is suitable.



1.3. Professional Leverage: -
You need to be a complete blog writing professionally before start a blog business. This is mandatory for you so that you can start with a good gesture.

How to start a blog?

You need to think below about yourself and that is: -

1. Your Present Professional Experience
2. Your Industrial Connections Type
3. How can you apply for experience in Blog Writing
4. To start receiving guest posts, if we choose a popular website on another website, then which audience will target my blog.

To create a successful blog, you need to create an effective blog that should be demanded in every visitor's eye.

To generate a successful blog, you need to use your complete professional experience, you need to be intended, you need to focus on the Title of the Blog, and use everything that creates a genuine blog.



1.4. Keyword Research: -
While writing a blog, this is a very important thing that you need to take care and that is known as Keyword Research. This is not so tough, You need to think that what people are searching on the website about a blog and you need to target the same there. You need to gather the keyword that a visitor is searching for and if you do not put such a keyword then your blog will not be recognized in the search engines and no one will search for your blog.

You need to know the basics of Keyword Research and SEO so that your blog can get a good ranking and can receive excellent traffic.

You can use SEO tools to measure such keywords in your blog. With this tool, you may know:-

a. Monthly Search Volume
b. Keyword Difficulty
c. Cost Per Click

you need to search for Keywords with great volume and less competition.


2. Mention your Blog's Aim -
While writing a blog, you need to think about the purpose of your goal. Your ambition behind writing a blog should be Attainable, Relevant, Specific, Measurable, and Timely.

Here are details which I have used while I was preparing for Blog Writing and these are: -
1. Writing first 5 blog posts for up to 2000 words each 2000 words
2. You need to create an About Me page and complete this page
3. Get live 5 guest posts
4. Start getting at least 1000 visitors to your blog in a month
5. Create an email list of 250 people
6. Start receiving 100 backlinks

Now if we talk about your Blog's profile then you need to take care of the below things and these are:-

* Your Title should be Unique Identity
* Your Blog should include Headline and Sub-Headline
* The purpose of your Blog should Identify clearly.
* The content should be readable and flowable, etc.
* You need to target your audience as well
* You need to select the main category of your Blog
* You need to target famous Keywords.
* You need to write SEO content


3. Have a Domain Name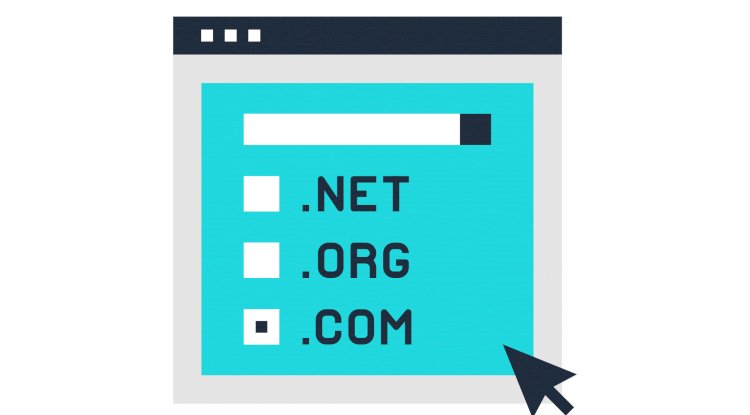 You need to first select the right domain for your blog. You can select the Go Daddy website for this. The domain name should be specific and it should fulfill a visitor's requirement to reach it easily.

Following are 3 things that you need to care about at the time of purchasing a domain:-


3.1. The Domain Cost: –
You need to purchase a blog's domain name from a website such as GoDaddy or BlueHost etc. Generally, a domain costs you USD 10 per Annum.


3.2. Your Name as Domain Name: -
Most people like to purchase their domain name as their name. But most of the time, a blogger changes the domain name as per their requirements.


3.3 Domain Extension: -
On these popular websites, you will find the Domain Name with the following extensions and these are - .com, .us, .guru, .sport, .in, etc.


4. Select a Blog Hosting Website and Register your Domain-
For every domain that you buy online, you need to host that domain to make it live. So that visitors can reach easily your domain. Therefore, without registration on this hosting website, your blog will also not live and so will not be visible to anyone.
The running performance of your website should be excellent with the hosting website. So you need to choose the best hosting website to host your website.
Normally, people like to host their website on GoDaddy and BlueHost, because of the performance quality and price recommendations there on this website.
Also read: 7 Best Hosting for your Website
On this website, you may find a lot of features such as:-
99% Server Uptime
Excellent Security Measures
Excellent Speed Servers
An easy-to-use Dashboard which is handy for Beginners
Multiple Hosting Plans
24/7 Customer Care Support / Chat Options also available
Free SSL Certificate through some Advance Plan
Easy cPanel Dashboard
One-Click WordPress Installation
Low Cost & Budget Plan

5. WordPress Installation:
Once you have selected your domain, and hosting website then your next step is to select the Blogging Platform that is your WordPress Installation Website.
Your Blog Platform is also known as Content Management System. There are places that provide you all facilities like writing, editing, customizing, and publishing your blog.


6. Choose a Blog's Theme:
Once you have your WordPress Account then you will be able to add a theme to your website. A WordPress theme provides the best appearance and design to your blogs so you can show it online as you want. You may find a lot of options on this WordPress.

7. Install Wordpess Plugins:
Through WordPress, you may find multiple Plugins options as well. There are a set of tools available on WordPress which are inbuilt on your website and so works great to increase your website appearance and complete the other functionality requirement as well.


8. Doing SEO for your Blog:
SEO is an important part of each website because this is generally used to get much of the promotion of your website. SEO provides to build your path for your blog after .com. With this, you need to use Google Analytics, and Google Search Console. These two tools are important to index the blog and to keep monitor the traffic of your blog.

9. Prepare Pillar Content for your Blog:
Once you have designed the blog then you need to start writing the content for your website. This is very important for you to check sentence structure and complete the grammar of your content.
You need to follow every criterion to write, edit and complete the blogs. You need to write always such content that suits much to your Title.


10. Create a Content Strategy:
Once you have published online your blogs then still there are things that you need to complete.
Please follow the below-mentioned Content Strategy:-
Perform keyword research

The content you write should be as per the competitor's research.

Once the Blog is published online. Then you need to wait to get traffic on it.

Continue to edit your content by adding more content and increase the length of the content.

Once you can get your blogs within the next 2-3 pages then you can join the Affiliate program offered by a company that best suits your Blogs.

To keep maintain the ranking of your blog; you need to edit and modify the content from time to time as requires. And you will be able to generate backlinks.

In lastly, once your blogs come on the first page then you will be able to start getting Affiliate Revenue.

Guest Post Outstrip and Link Building- Guest Blogging is one of the known and famous methods online which is used to promote your blogs in huge.
Below are some steps that you need to taking care of in case of Guest Blogging:-
Find Best Guest Posting Options
Manage Guest Post Content
Pitching Guest Post Scheme
Writing & Editing Guest Post
Link Building Strategies
Broken Link Building
Link Reclamation
Link Partnerships

You need to use a tool like Moz Link Explorer. This tool will allow you to check the backlink profile and domain authority of the website.
Once the Title of your Article is decided and approved then you need to keep the below things in your mind and these are: -
You need to use Google Docs and then you need to pick a format to post properly.
You need to follow the editorial guidelines.
You need to use the target keywords for SEO.
You need to remove grammatical mistakes.
You need to build links to your website and guest author bio.
If possible, you need to add images as well.
You need to post the Article in a timely manner as is required.


Conclusion:
Hence, we have studied above all about the major steps which are important while writing a blog, publishing it online, promoting it online, and generating traffic online and receiving traffic online, and then starting earning online through the blogs.
If you following these above-mentioned steps deeply and if you are a professional writer then you may damn sure to yourself that you will start earning blogging if you choose it as an online business.