Which one is Better: Ahrefs VS Semrush VS Moz- A Thorough Comparison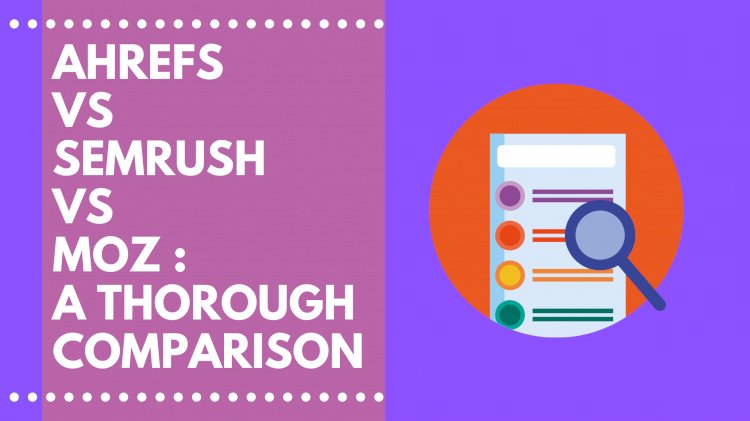 Starting a website or online store is one thing, but the big deal is managing your website and ensuring that it is competitive enough to match other sites. Suppose you often search for products on Google; it is no secret that some sites consistently rank on the first page.
And as everyone builds a website, he/she dreams of ranking high, explaining why many websites building platforms come with inbuilt SEO tools.
Let's be honest; most of the websites you will come across tend to gravitate toward the toolset they use.
However, this piece is different; it's here to create an unbiased comparison that points out the strengths and flaws of each option.
Some of the world-class SEO software suites include Ahrefs, Moz and Semrush. The three of them feature high-quality tools and are popular among many online store owners.
Are you still wondering what the best toolset to get to analyze your website is? If yes, sit back and read through this article to understand more about the three best options.
All three of them have their strengths and weaknesses; hence all you need are facts relating to all of them before settling for one. Check it out!
Pricing
Monitoring your website is a must if you are looking to make something out of your online store. Suppose you are observant as you search for products in Google, you realize that some websites are always at the peak while others must mention them to get results from these sites.
If you are a newbie, many questions may have crossed your mind regarding what makes the difference between these two cases. You are right to think, the management and analyses of these sites are different. SEO tools make this much difference.
Some of the best choices include Ahrefs, Semrush and Moz. However, as you settle for any of them, the subscription plans are something you must consider.
It would be best if you stuck to your budget since you can always upgrade when the income increases. Semrush and Moz are the best options for people with a tight budget and hope to analyze their sites to monitor their operation.
Why is that? Moz and Semrush offer a 30-day free trial. It gives you a rough idea of what to expect when you grab their offer. Later, Semrush expects you to pay a monthly bill of $119.95 while the Moz subscription plan costs $99 monthly.
Ahrefs, on the other hand, it's a special case, this SEO software suite doesn't offer a free trial, but its starting point is less expensive, standing at $99 for the basic plan.
When it comes to pricing, Moz is the best choice. Other than a 30-day free trial, it offers its monthly billing at a manageable cost of $99; hence you can always start from there.
Preferred operations
As mentioned earlier, these SEO tools have their strengths and weaknesses. For instance, Ahrefs is what to look for if you hope to create superior backlinks for your online store; as much as it's a bit more pricey than the other two, it's worth it, especially in the backlinks building for any site.
It features a high-quality link index where you can use these tools to unearth other sites' backlink profiles to create superior backlinks for your website. Not to mention, it notifies you in case of lost or new backlinks.
For Semrush, it's the top keyword research and competitor analysis SEO toolset. It is the best when it comes to tasks related to SEO. It features a powerful tool, Keyword Magic Tool, which holds 20 billion-plus keywords in the database.
This magic tool offers you keyword variations considering your target keywords and advises you on the accuracy of your keyword level, for instance, CPC, keyword difficulty score, search volume and many more.
Moz uses SEO metrics like Page Authority and Domain Authority to analyze the situation of your website, including keyword rankings, page optimization, link equity and more.
Features
Another primary consideration before you settle for any SEO analysis tool, you must check out the features of each of them. It will help you understand every toolset better and to know what to expect when you settle for any of them. This part will highlight the features of each of the three world-class SEO toolsets.
Ahrefs
This SEO software suite is well-known for backlink analysis, but it is full-fledged software with other analysis features to boost your website. Read on!
Site Explorer: This tool comes in handy when you want to understand the search traffic and your site's backlink profile. In other words, you will understand your site better.
Content Explorer: It's time to put an end to writing content blindly where you are uncertain of the side to gravitate to and what people are looking for when visiting your site. Use this tool to discover the most-searched content in a specific content using backlinks, social shares and organic traffic.
Alerts: The SEO toolset is crucial since they are your eyes on what is happening on your site, and Ahrefs makes sure to notify you in case of anything, including lost and new backlinks, keyword rankings and web presence.
Rank Tracker: Discover where you rank on mobiles and desktops in different regions. Reports come as requested, which can be daily, weekly, or monthly.
Domain Comparison: You must keep an eye on your competitors' websites, notifying you of their backlinks. This feature allows you to monitor backlink profiles of at most five different domains.
Content Gap: This feature gives you a reliable way to compare your site with your competitors. Discover the keywords you are missing, but your competitors have and are using to rank higher.
Semrush
Semrush is another SEO toolset that you should consider when looking for ways to monitor and analyze your website. It is the best option for keyword research and analysis. Check out some of its features.
Key Magic Tool: Semrush holds the most extensive database featuring over 20 billion keywords. It is a tool that comes in handy when analyzing your keywords in consideration of the target keywords. This feature offers crucial keyword metrics that you can use to rank your site and discover ways to improve it
Site Audit tool: Identify and solve technical issues in your online store
Position Tracking: This tool has a record of being the best position-tracking tool you can use today. It will help you track your site and that of your competitors, depending on the target keywords. You can use it to analyze why one of your competitors ranks higher than you.
Content Marketing Toolkit: If you are struggling with content making and feel that you are not measuring up with your competitors, this tool is the ultimate solution. It features six content optimization tools to assist you to level up your work to beat your competitors.
Competitor Research toolkit: This feature has all the tools you will need to monitor your competitors' PPC campaigns and SEO. It helps you consider your backlinks and keywords to offer accurate traffic metrics, and you can also benchmark your competitors' traffic.
SEO Reports: Identify and download PDFs to help monitor and improve your PPC and SEO research data
Backlink Audit tool: This feature helps you avoid Google-related penalties that may affect your site by discovering and fixing the toxic backlinks
Moz
Moz SEO toolset is a package that offers every client insight into keyword rankings, link equity and page optimization reports allowing them to monitor the performance of their site. Some of its key features include:
Global Rank Tracking: It monitors the keywords ranking for Bing, Google and Yahoo in over 200 countries. Other than that, it categorizes them depending on the location, keyword label and campaign.
Link Profile Analysis: Access the links on the web and analyze the best links during various key metrics
Keyword Research: Use this feature to discover the top keywords in afield, analyze them and prioritize the target keyword as per your site's preference. Use these facts to improve your SEO rank for your site.
Site Crawl: Many people, especially newbies in e-commerce, tend to have a vague idea of what SEO is; hence they end up making many SEO errors. However, this problem is something you don't have to worry about as you run your site with this feature. Other than identifying these errors, it will recommend the best way to fix these issues
Page Optimization: When managing a website, the experience can play a pivotal role to improve your working strategies. But, if you are a newbie, this feature will level up your experience. It is a search tool that evaluates the top-performing content across the internet and discovers winning strategies that will help you improve your content.
Final Verdict
The content above explains all the features and facts surrounding the top three best SEO software toolsets globally. And from the look of things, they all feature their strengths and weaknesses. Therefore, as you chose your best option, keep in mind all the information to ensure that you get an assistant that suits your business best.